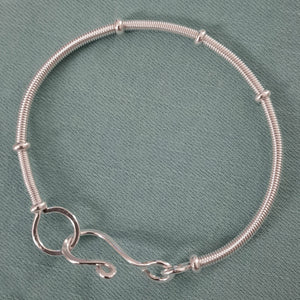 Bracelet - Asymetrical Block in Sterling Silver
Our asymmetrical bracelet is fully wrapped in Sterling Silver wire with decorative stopper beads of silver randomly spaced.

Each bracelet is made individually and no 2 are exactly alike - just like the unique people that wear them!
*All 10-ton goldfish designs are individually made to order by hand, because of this, slight variations may occur from piece to piece.