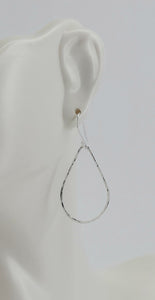 Earrings - Sterling Silver Open Teardrops with Hammered Texture
These earrings will have you crying tears of joy!
Beautiful 30mm long teardrops in delicate, hammered, sterling silver on handmade french wires.
*Earrings with French wires are shipped with rubber bumpers.
*All 10-ton goldfish designs are individually made to order by hand, because of this, slight variations may occur from piece to piece.